Mariah Carey responded to rumors that she had an "explosive" fight with Jay-Z that allegedly led to her ending her relationship with Roc Nation.
The Always Be My Baby singer told fans on Twitter that there was no fight.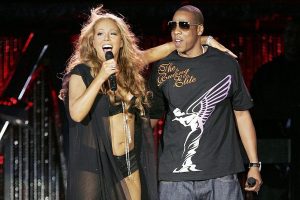 "The only 'explosive' situation I've ever been in with Hov is creative contact, like our #1 song 'Heartbreaker,'" Carey tweeted Monday, referring to their 1999 track. See above!
Her remarks followed a report from The Sun that a tense fight broke out between the pair as they discussed her career.
The meeting allegedly "exploded" and informed her of the decision to eventually leave.
Mariah Carey has responded to rumors that she had a 'high-profile fight' with Jay-Z. (Getty Images for Roc Nation)
"Mariah and Jay had a stormy meeting [which] didn't work out at all," an alleged insider told the publication.
"She made it clear that she didn't want to have anything to do with him anymore and announced her breakup with Roc Nation," the insider said. "She will officially leave in the next few weeks."
Carey went on to call "the lie", writing, "To the people who make up these lies, I say, 'Poof!' "Wamuz, sonophah…!" The line is taken from Jay's 2001 hit "Izzo (H.O.V.A.)".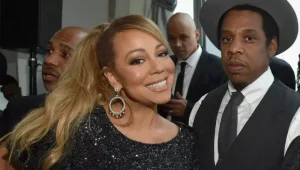 Mariah Carey, Jay-Z
Mariah Carey exposed the lie after an alleged altercation with Jay-Z. (wire image)
Although Carey put an end to the feud rumors, she has not officially mentioned her working relationship with Roc Nation.
The musicians previously worked on the songs "You Got Me", "Shake It Off (Remix)" and "Things That U Do".